CONTRACT
The contract (or agreement) is the signed document between the company and your local union which describes terms and conditions of employment, such as the following:
WAGES: Fair rates of pay for each job, including automatic wage increases, etc.


CONDITIONS: Safety and health, personal rights and treatment, breaks, lunch, and work hours.


BENEFITS: Company paid health insurance, hospitalization, pensions, safety and skill training, etc.
Among its most important features will be an orderly system for settling disputes between employees and company bosses. This is called a "grievance procedure" and it requires the company to go through successfully higher steps until a satisfactory solution is found to an employee's problem.
Under a written contract, nobody has to guess his wages or to seek individual favors from the boss. All things are spelled out for everyone to see and understand.
THE CONTRACT IS THE
WORKER'S
"BILL OF RIGHTS"
CONTRACTORS DON'T BUILD
WITHOUT A CONTRACT
NEITHER SHOULD YOU!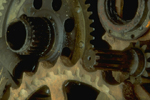 - Open Letter
- The Union
- History
- Myth vs. Reality
- Dues
- Negotiations
- Contracts
- Right to Organize
- COMET
- Prevailing Wage
- Labor Management